One Day National Seminar
on
EMERGING TECHNOLOGICAL APPLICATIONS IN CHEMISTRY
(ETAC 2018)
in association with
TELANGANA ACADEMY OF SCIENCESS, HYDERABAD & RGUKT BASAR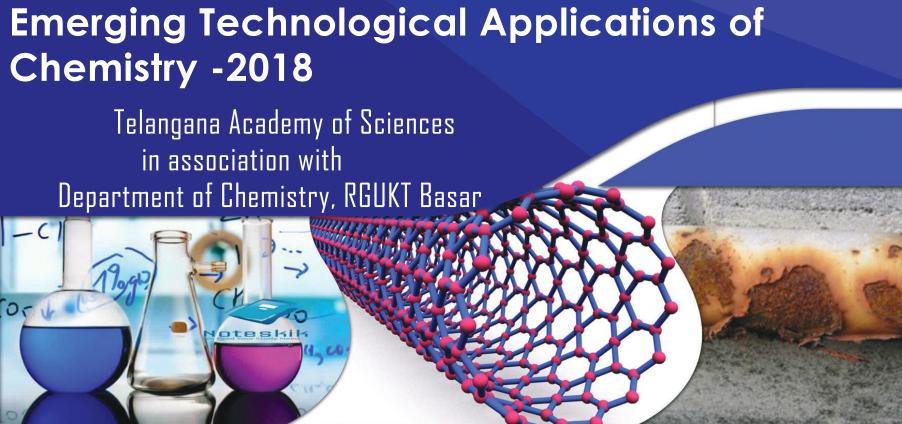 About the Seminar
The seminar mainly focuses on the technological applications of chemistry in various fields like Catalysis, Nanomaterials, Leather Processing, Food industry, Corrosion & Metallurgy, Polymerization, Membrane Separation, Pharmaceuticals and Drugs, Spectroscopic tool implementation Agrochemicals, Reaction Engineering, Semiconductors, Biochemical Engineering, Petroleum Technology etc. The modern products of chemistry lead to cutting edge advancements applied technology in medical devices, aerospace, computing, fuels and more. The applications of chemical technology includes repairing of damaged human tissues, delivering drugs to specific cells, improving efficiency of solar energy production, higher performance plastics for aerospace, construction and vehicles. However, having vast applications there is a necessity to have a platform where ideas can be exchanged and future challenges can be taken up.
Aims and Objectives
To provide a scientific forum where chemists and related people can exchange their ideas.
To enhance the research activities in the country.
T o create an atmosphere of collaboration among national institutes and universities.
To promote university-industry collaboration.
To create a platform to the enthusiastic MME and chemical engineering students for the industrial opportunities.
To address recent technological challenges in chemistry.
To produce purposeful research at the university level.
Other Activities
Quiz
Elocution
Poster session
Organized by
DEPARTMENT OF CHEMISTRY
RAJIV GANDHI UNIVERSITY OF KNOWLEDGE TECHNOLOGIES
Basar, Nirmal-504107, Telangana State