A Two day National Workshop
on
Powder Metallurgy and Advanced Ceramics
(PMAC 2018)
in association with
Powder Metallurgy Association of India
27-28th September 2018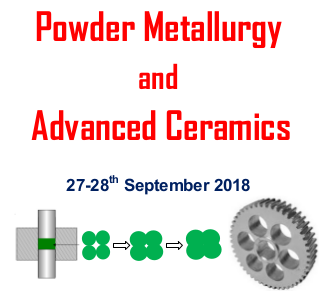 About Basar
Basar, the temple town and abode of Gnana Saraswati is located on banks of holy river Godhavari. Basar temple is one of the oldest in the country where the goddess of knowledge Gnana Saraswathi is worshipped. Basar is located 200 km away from Hyderabad and 40 km from Nizamabad
About RGUKT
RGUKT Basar is a decade old government institute tapping the talent of meritorious students from Telangana and Andhra Pradesh after their 10th standard and transforms them into engineering graduates in several disciplines besides Metallurgical and Materials Engineering (MME). The university has fully residential campus and spanned in about 270 acres. Currently, there are about 6500 students in the campus mainly from rural areas of Telangana out of which 65% are girls. RGUKT Basar also offer M.Tech program in selected engineering disciplines. Stepping into its second decade, the visibility of RGUKT, Basar has already being felt in several leading centers of engineering industry, academia and Government institutions.
About The Department
MME department of RGUKT, Basar was established in the university in 2010 and nurtured by Prof. K. Bhanu Shankara Rao (Pratt and Whitney professor, UoH) and Prof. T Rajagopalachary. The department currently has got 8 faculty members. The department is well established with advanced research equipment for mechanical testing, life assessment & characterization.The Department facilities are extended for researchers and students on regular basis.
Major facilities available:
Bruker's D8 DISCOVER X-ray Diffractometry
Zeiss Merlin Compact FESEM
Instron Servohydraulic Testing System
Zwick Electromechanical UTM
BISS High Cyclic Fatigue Testing Machine
Creep Rupture Testing Machines
BISS Friction Stir Welding Machine
IVIUM Potentiostat
Microwave Sintering Furnace
About the Workshop
Powder Metallurgical methods of manufacturing consists of powder synthesis, pressing and sintering that results in components with near net shape with increased production while minimizing energy and waste. At the same time, advanced ceramics also start from specially synthesized powders with defined characteristics and lay a significant role in modern technological advancements in Electronics, communication, aerospace, biological, defense, sensing and actuation, automation, robotics, automotive and manufacturing sectors.
The workshop is aimed at bringing out the knowledge and expertise of the scientists, faculty and industrialists in Hyderabad area under one roof. The workshop also provides a platform for students and faculty from various engineering colleges to be informed of the latest developments through Lectures, Demonstrations, Interaction and Networking with the experts and each other.
Topics:
Powder Synthesis and Characterization
Oxide and Nonoxide Ceramics
Shape Forming
Compaction and Sintering
Sintering Furnaces and Atmospheres
High Pressure Consolidation
Additive Manufacturing and Near Net Shape
Composites and Coatings
Applications in Defense, Aerospace, Energy and Environment
Powder Metallurgy association of India (PMAI)
PMAI is the premier organization for powder metallurgy (P/M) professionals in India and was founded in 1973. Currently, the association has approximately 800 life members and nearly 25 fellows. It is a national organization that promotes, encourages and nurtures the growth of Metal powder and P/M industries by stimulating the related activities in science and technology. PMAI trains industrial personnel and entrepreneurs through short term courses each year. Every year, during third week of February, an international conference along with annual technical meeting (ATM) is arranged where in several speakers from industry and research deliver lectures and deliberate on the recent advances in P/M world over. It also brings out annual Transactions (now twice annually) and proceedings on special occasions.
The 5th International conference of P/M in Asia (APMA 2019) is being hosted by PMAI in Pune during 18-21 February, 2019. The website is www.pmai.in.
Who May Attend?
Students, Faculty and Researchers from engineering colleges of Metallurgy, Mechanical and Materials Science including Physics and Chemistry
Date and venue
Date : 27-28th September, 2018
Venue: AB-1 Auditorium, RGUKT Basar.
Organized by
DEPARTMENT OF METALLURGICAL AND MATERIALS ENGINEERING
RAJIV GANDHI UNIVERSITY OF KNOWLEDGE TECHNOLOGIES
Basar, Nirmal-504107, Telangana State