Bharat Excellence Award 2018
S. Chand Rakesh Roshan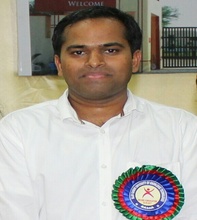 RGUKT Basar FACULTY Mr. S.C.Rakesh Roshan BAGS "Bharat Excellence Award 2018" in the Field of Education
Mr. S.Chand Rakesh Roshan, Asst. Professor, Dept. of Physics, RGUKT Basar is awarded with the coveted " Bharat Excellence Award – 2018 " for the year 2018 awarded by Lt. Gen. K.M.Seth, Hon. Former Governer of Tripura and Chhattisgarh on 25th Sept.2018 at New Delhi.
This award is in recognition to the dedicated, consistent result oriented efforts, Praiseworthy achievements being put up in the field of education.
As a Coordinator of NPTEL-SWAYAM, his efforts and coordination resulted in the consistent ranking of RGUKT University as Top 50 Local Chapters in the country and he also won appreciation awards from NPTEL for the same.
As a guide for NASA AMES International Contest for the students, the University Students have been consistently bagging one of the Top three Prizes worldwide for the past 5 years.
He has also been the Main Coordinator in the conduction of NPTEL National Level Workshop at the University, where many colleges and Institutes of Higher education from the Southern part of India had participated and benefitted.
He has also been an Organizing Secretary for the International Conference ICAFM held in Dec 2017 at RGUKT Basar.
He is also the Faculty Incharge of Placements for the University for the past one year and he is also the Head, Department of Physics delivering the best of his abilities.
He has also participated and presented in several International and National Conferences/Symposiums held in India.
He also has to his credit "Nasa Teacher Award" and "Young Leader in Science Award" bestowed upon him.
He is a firm believer in Multi tasking and in the principle of Results Speaking Louder than words.